We believe that ease of use is very important for our advertisers and publishers, so since the very first version of the AdEx Platform we've strived to support as many deposit methods as possible. The AdEx Platform operates in DAI stablecoin cryptocurrency, but currently there are three main types of deposit methods you can choose from:
DAI stablecoin (direct deposit);
Fiat money - GBP, EUR, USD, CAD and more ; and
BTC, ETH or XRP supported by Changelly.
In this article we will walk you through all methods for topping up your account.
How to directly send DAI to your AdEx account
Let's assume that you know how to work with cryptocurrencies and you've already bought DAI, but if you are just starting— better check first our tutorial on how to purchase and start using DAI.
Step 1: On your Dashboard, go to Top Up Account.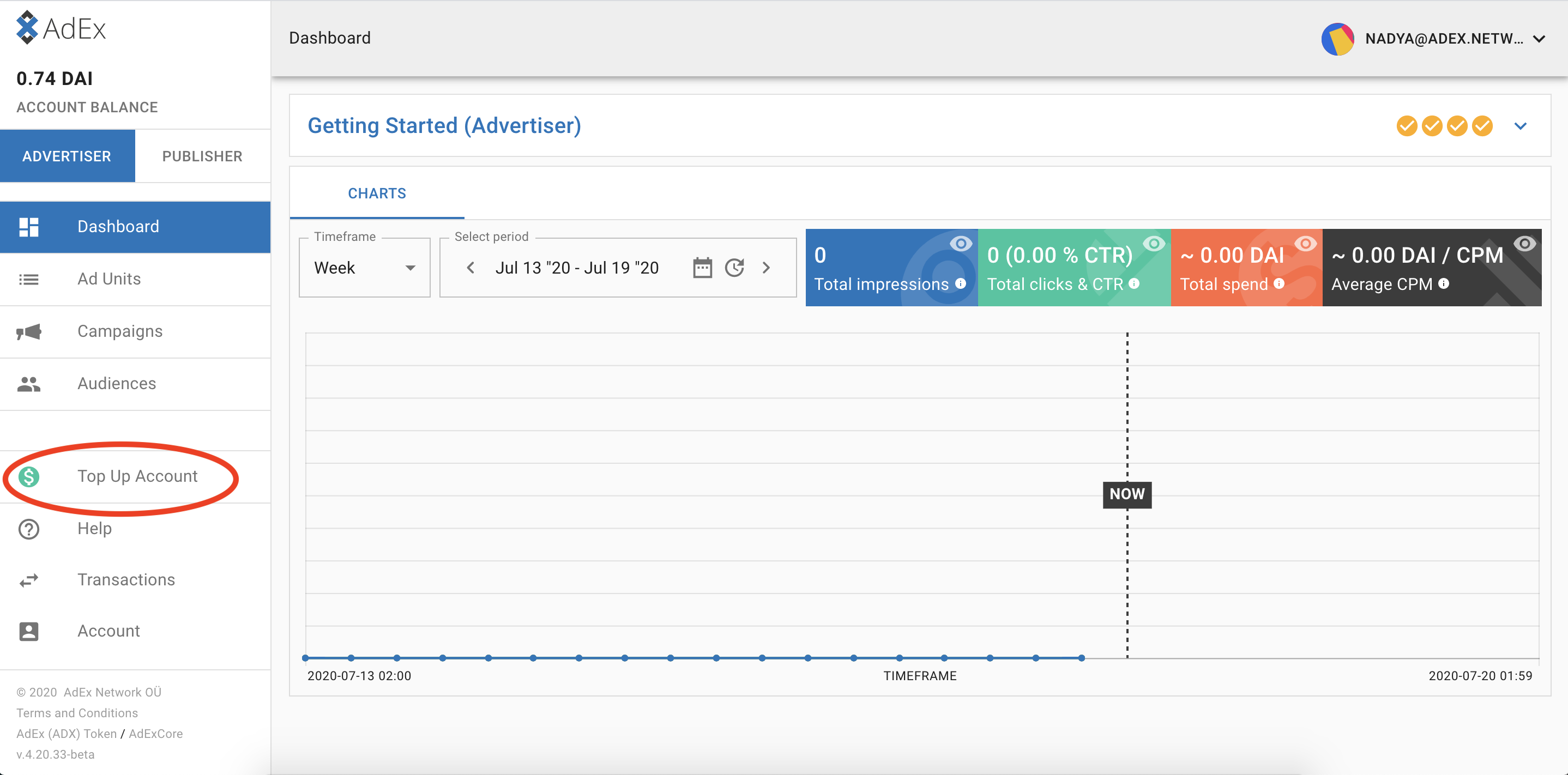 Step 2: On your Top Up screen you have different options to top up your account.
If you already hold DAI in a wallet of your choice, you can simply send the funds to your Identity Address shown in the first column called DAI DIRECT DEPOSIT.
Clicking on the address will copy it to your clipboard. Now that you have it, just send funds to it using your preferred wallet.
How to top up your account using credit card or direct bank transfer
You can top up your account with EUR or GBP via Ramp; CAD using PayTrie (using bank transfer) or a list of currencies, EUR, GBP, USD among them using Transak (using a credit card or bank transfer). You can find further information about the different methods in this article.
Step 1: On your Dashboard, go to Top Up Account.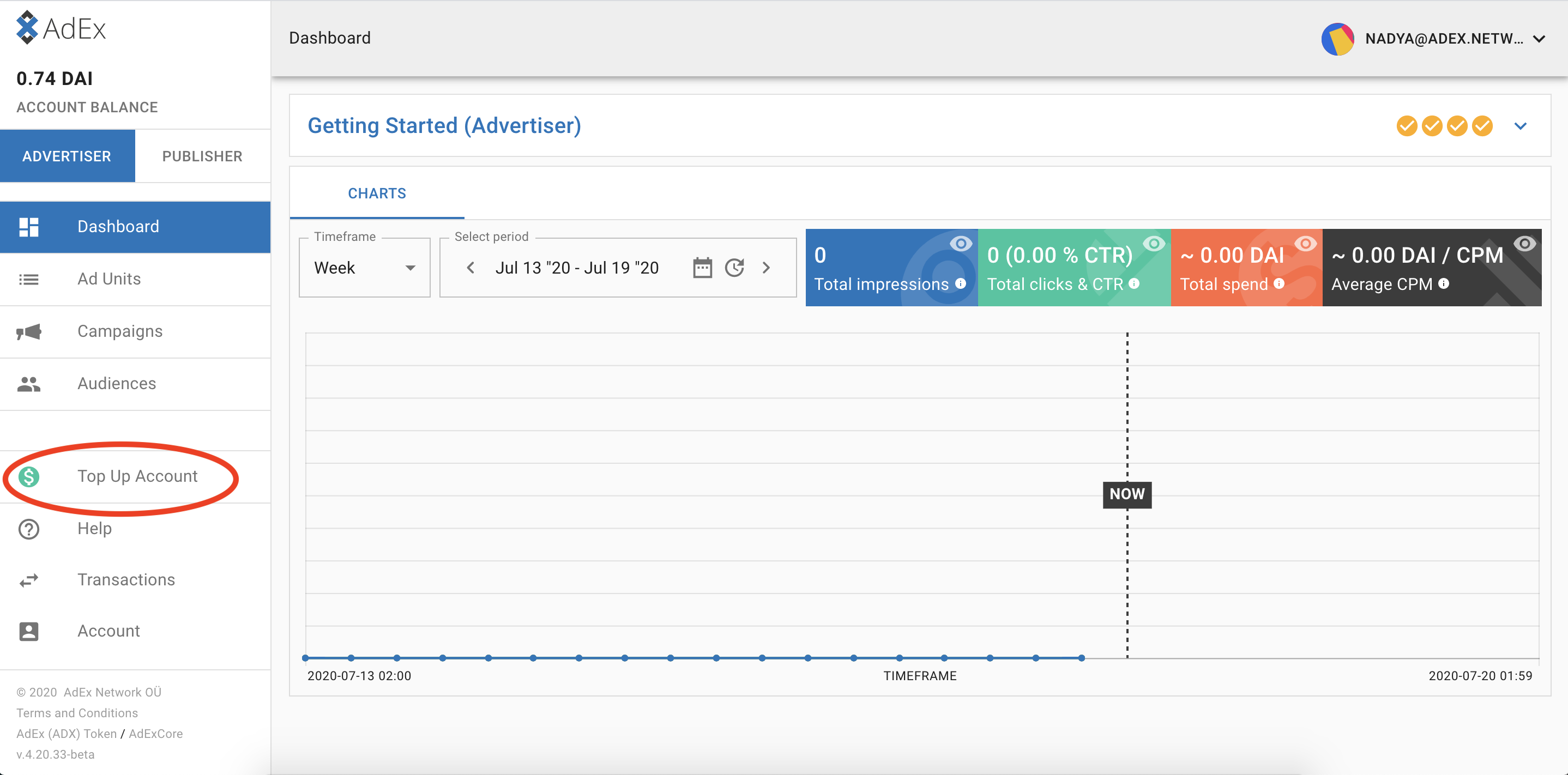 Step 2: On your Top Up screen you have different options to top up your account. The column in the middle has all the credit card and direct bank transfer options. You will see the corresponding terms and fees for each method when you click on it.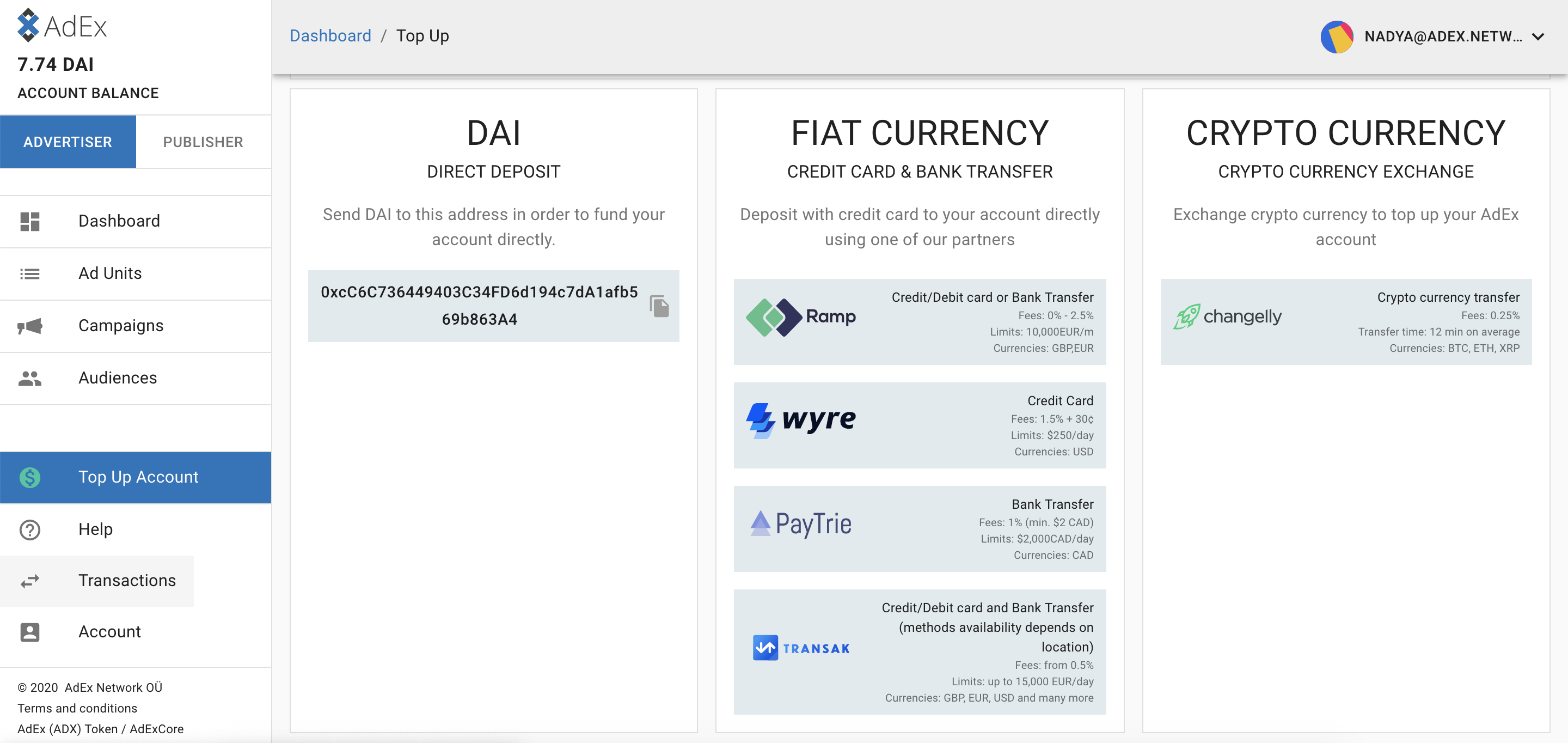 How to deposit BTC, ETH or XRP to your AdEx Account
Step 1: In your Advertiser dashboard, click on Top Up Account on the left hand side, then select Crypto Currency on the right.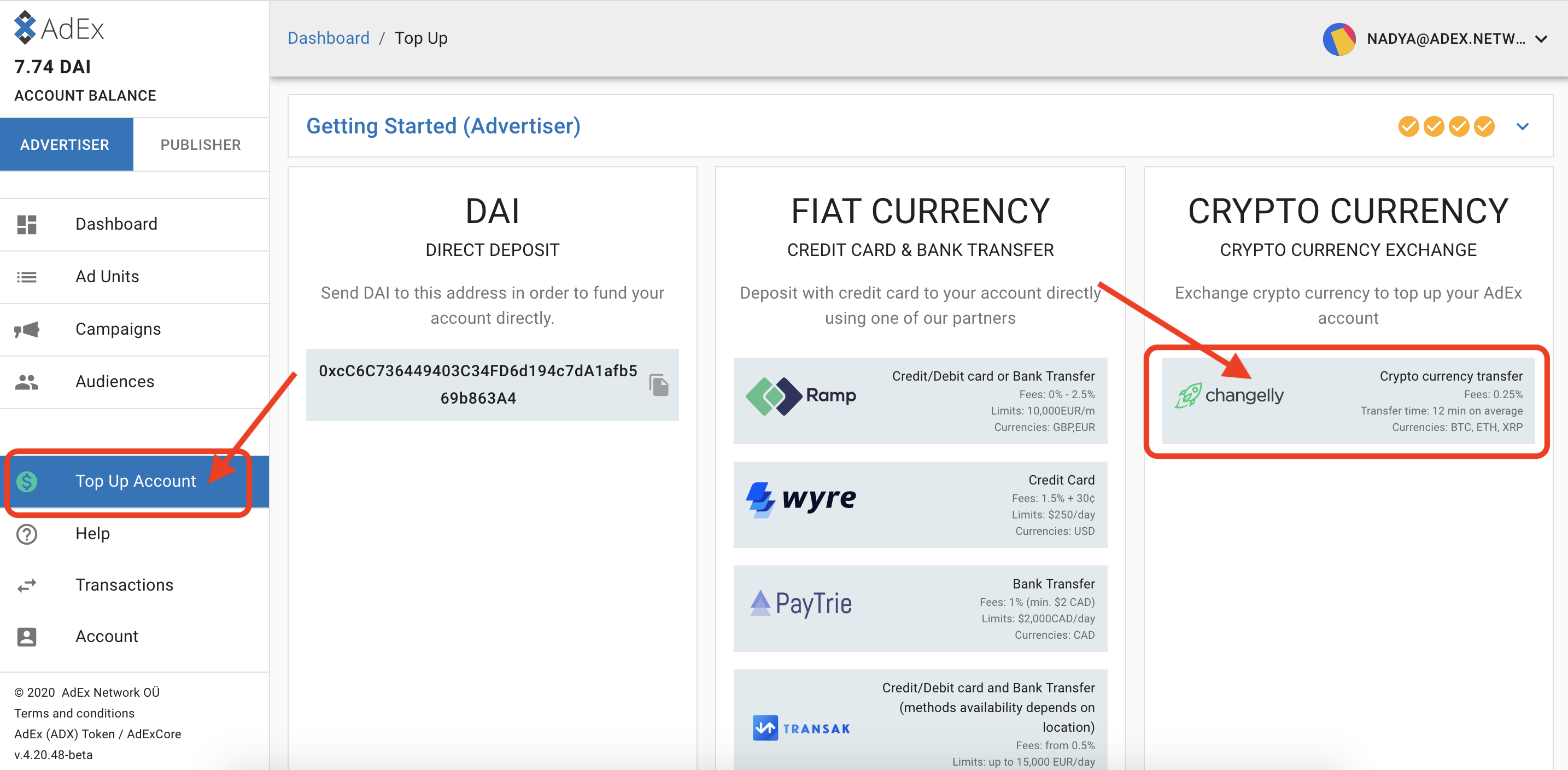 Step 2: First, from the currency dropdown menu choose the currency you'd like to use: BTC, ETH or XRP. Enter the amount you'd like to deposit (in this example we're using BTC), read and agree to the changelly terms and click on 'Swap now'. You will also see the fee you would need to pay for this transaction.
Please note that the minimum deposit amount is set to 0.00279 BTC / 0.0852 ETH or 119.7 XRP.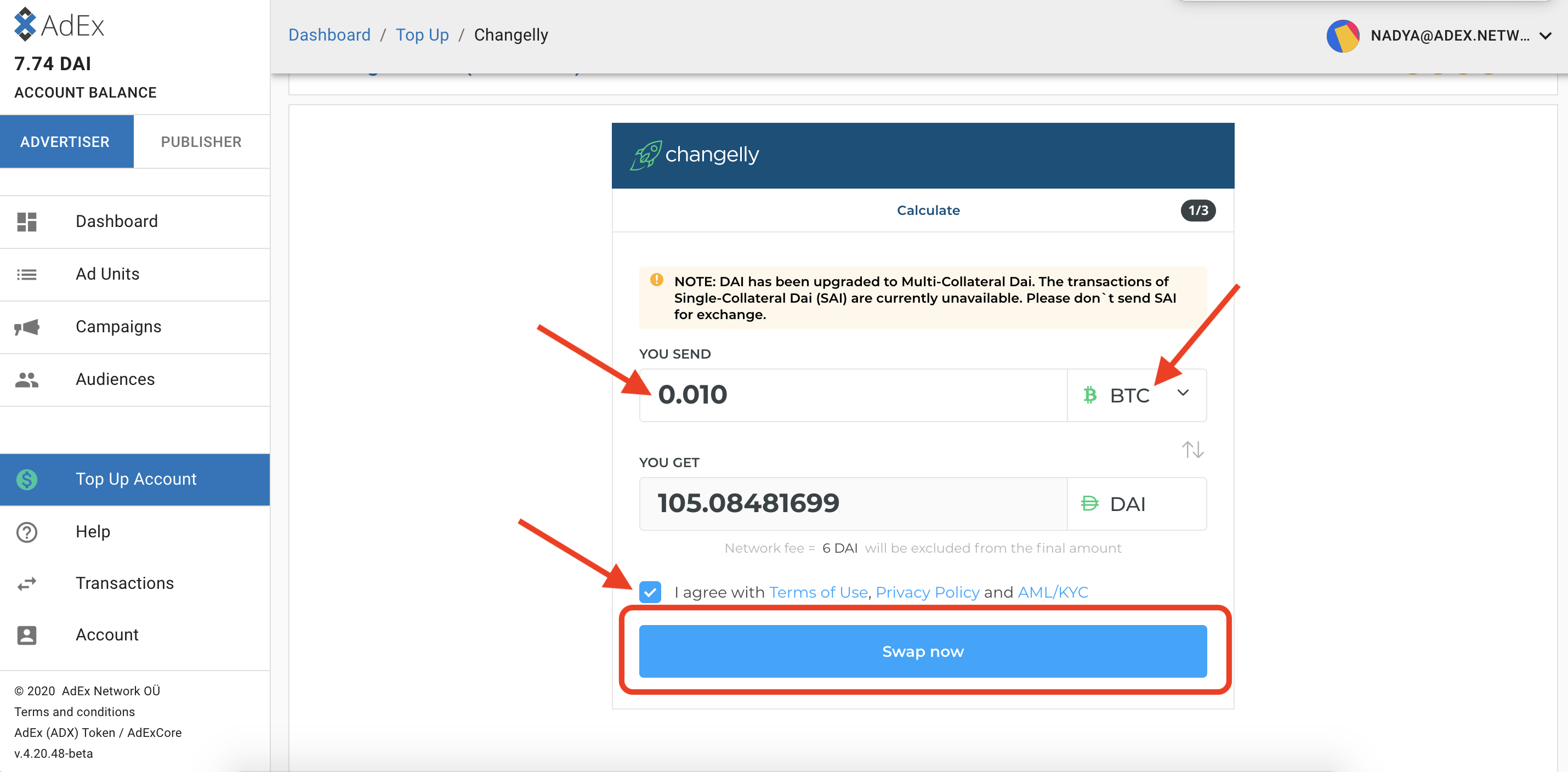 Step 3: You will see your AdEx Account ID as destination address. On that same screen, enter your email address, then click on Proceed.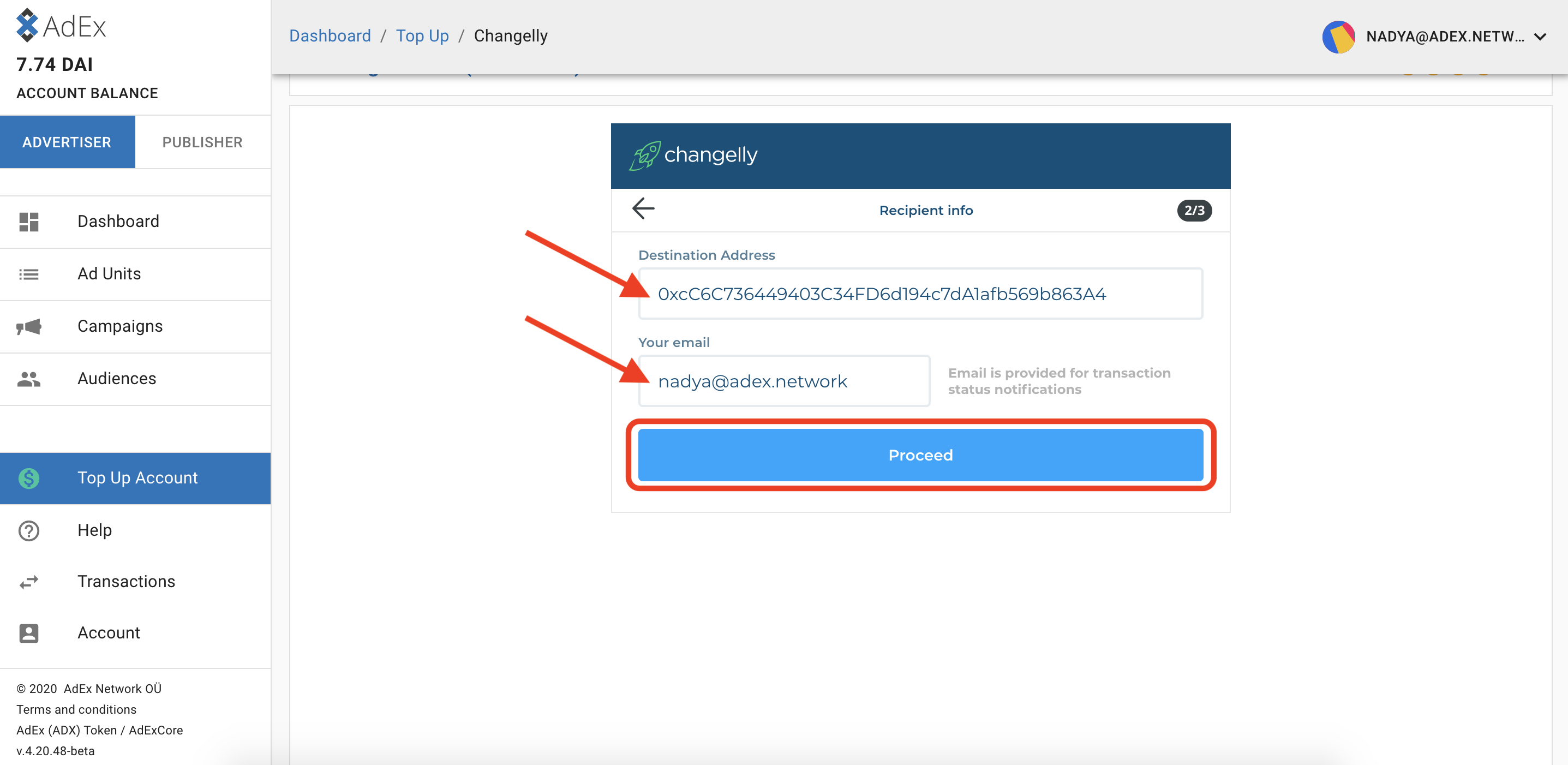 Step 4: If this is the first time you deposit via changelly, you will receive a confirmation code to the email you entered on the previous step. Enter the code on the next screen and click Proceed.

If you have used it before, you would need to enter your password on this step.
Step 5: You can now use copy the address or use the generated QR code to send the desired amount of BTC, ETH or XRP to your AdEx Account using a wallet or exchange of your choice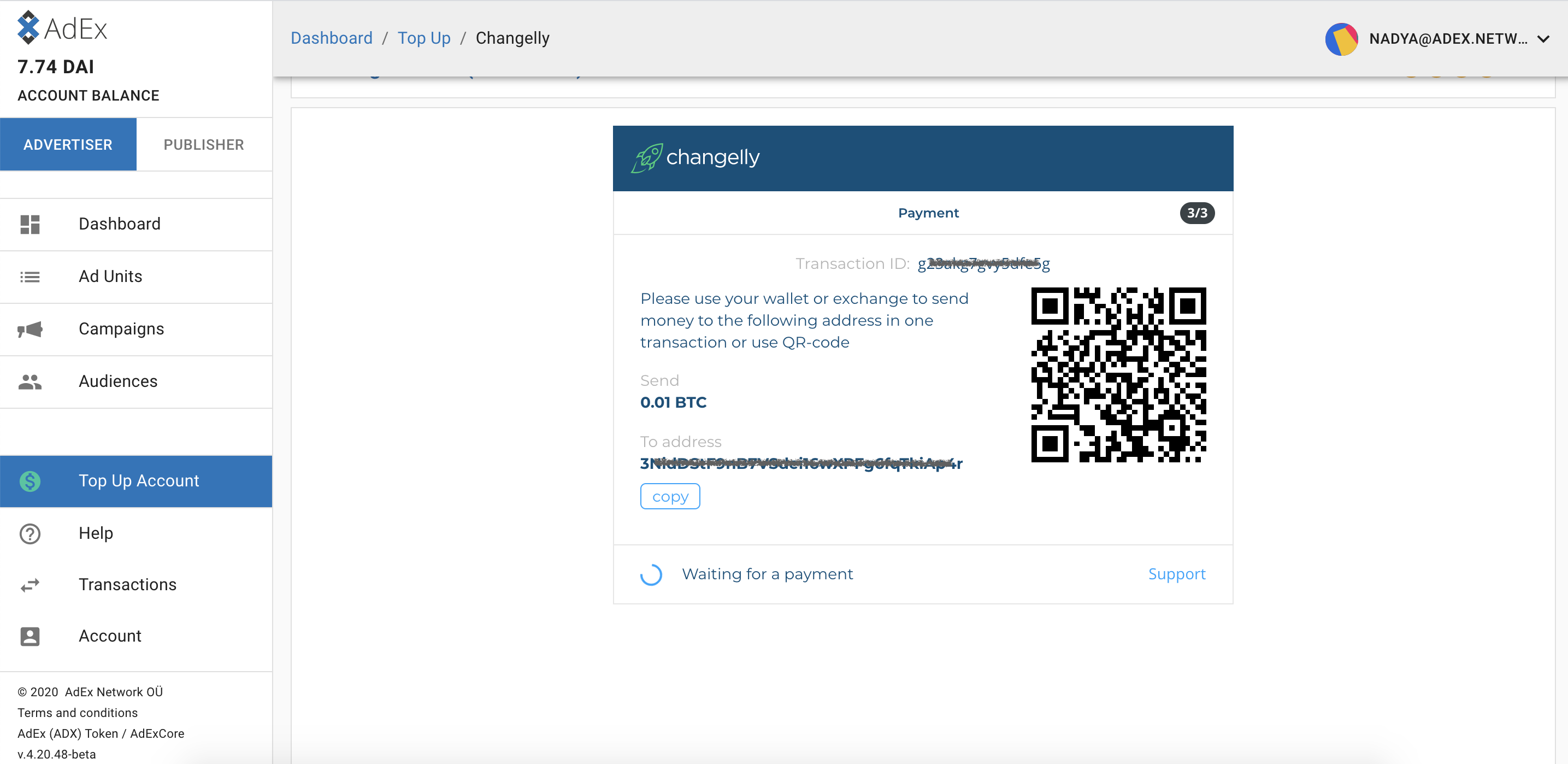 Once you have sent the funds, the corresponding amount in DAI will be credited to your AdEx Account and you are all set to launch an advertising campaign!